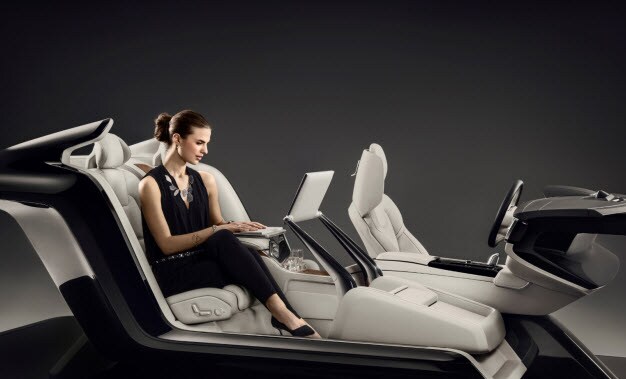 When Volvo first introduced the original Lounge Console Concept in the XC90, it was praised by critics and fans across the world. The company's ability to create a cutting-edge design that could potentially redefine the car interior resonated well with automotive enthusiasts. And now, to further expand their creative prowess, Volvo has developed an all-new Lounge Console Concept based on the highly-anticipated S90 Excellence sedan.
A sculpture of sorts, the new Lounge Console Concept is absolutely stunning. Its carefully crafted seating delivers premium comfort, while its vast amenities enhance the in-car experience. A massage function, heated/cooled cup holders, an oversized multimedia screen and a high-end sound system are just a few of the features offered. The backseat armrest also comes fitted with a refrigerator and two crystal glasses provided by Orrefors, allowing passengers to enjoy a cold beverage during their travels.
Additionally, the Lounge Console Concept features a mobile working station, complete with a fold-out table and large screen, so occupants can video conference or check emails while on the go.
To deliver a more relaxing experience, the front seat has also been removed from the concept and replaced with a heated foot rest, creating a serene environment. Watch the video below to get a full glimpse of the new concept.