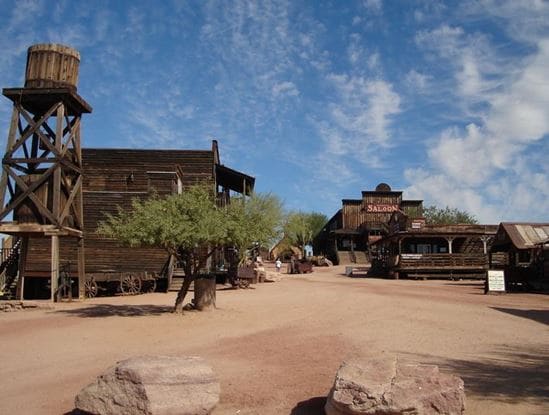 Saddle up and see the Old West like you've never seen it before at Goldfield Ghost Town, located at 4650 N Mammoth Rd in Apache Junction. Open daily, from 10 a.m. to 5 p.m., the historic Arizona landmark has something for all cowboys and cowgirls to enjoy.
During your visit, be sure to check out the Goldfield Museum, historic shops and buildings, and don't forget to take a ride on the train at this world-famous western town. You'll also get to see a fake gun fight performed by the well-known Goldfield Gunfighters. When you're done exploring, indulge in a delicious lunch or dinner at the saloon.

Spend the day immersing yourself in Wild West history at Goldfield Ghost Town.
History
Settlement of the town got underway in 1892, which is when gold ore was discovered in the area. From there, it quickly became a hot spot for settlers in search of the precious metal, drawing some 1,500 residents. In 1898, the gold had run out and the town became deserted.
Many decades later, Robert Schoose and his wife, Lou Ann, purchased the old mill site land and started reconstructing the buildings and mining tunnel. Today, Goldfield Ghost Town is a top attraction for locals and visitors alike.