It's easy to understand why Volvo has become so popular among all types of drivers. Volvo models are equipped with many options that make driving pleasurable, yet they have many safety and security features that are at the top of the list for car buyers. Not only are Volvo vehicles affordable for most household budgets, but they also provide a lot of driving enjoyment for drivers. The automaker manufacturers and markets a wide range of vehicles, including sedans, SUV's, station wagons, and even compact executive sedans. Volvo can accommodate many different lifestyles, and the safety reputation is extraordinary and has lasted for over nine decades.
When Did the Reputation Start Building?
Founded in 1927, Volvo has set the bar for high safety standards, which has been a part of the international auto industry for having exemplary safety expectations for buyers. In fact, Volvo was ahead of the auto industry and at the forefront of having self-regulation in place even prior to government safety regulations became so paramount. Volvo has continually reached safety milestones with innovative technology, such as in 2003, the company integrated the Intelligent Driver Information System (IDIS) into its S40 and V50 models, which selectively processes information for drivers to navigate through complex traffic situations and automatically adjusts once the situation has improved.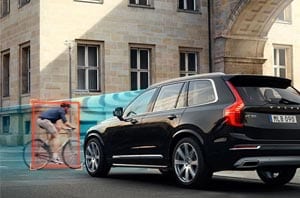 Continued Technological Improvements
A decade later, another notable milestone was reached when Volvo integrated Cyclist Detection with Auto Brake (CDAB) for its S80, V70, XC70, XC60, XC90, S60, V60, and V40 models, which automatically warns a driver if a collision is imminent with a cyclist moving in the same direction and automatically applies pressure to the brake system. In 2018, Volvo integrated Head-on Crash Detection (HCD) with automatic braking for all models. These are just a few of the numerous dynamic innovations that Volvo has chosen to be on the front lines of safety, and each year, it seems that the automaker goes out its way to challenge the year prior with innovative engineering geared towards making drivers, passengers, and pedestrians safer.
The preciseness of a Volvo vehicles' safety is easily noticed and does not over-shadow the comfort in any way. Volvo cars are arguably considered to be some of the safest vehicles in the world, yet that does not stop the automaker from adhering to the ever-changing needs, which has created challenges for keeping up with the same high safety standards while manufacturing vehicles that are still popular in a highly socially conscious world. Volvo steadfastly continues to refuse to reduce its standards. While other automakers are fast to meet the minimum standards for meeting strict government safety requirements, Volvo continues to look for ways to exceed them.
You can find out a lot more about Volvo incredible safety reputation by reaching out to the staff at Volvo Cars of Phoenix! We're dedicated to providing exceptional customer service and providing useful information to car buyers to make informed purchasing decisions. Since 2012, Volvo Cars of Phoenix has been committed to bringing a fun and stress-free car buying experience to the community. Stop by our showroom or give us a call soon!