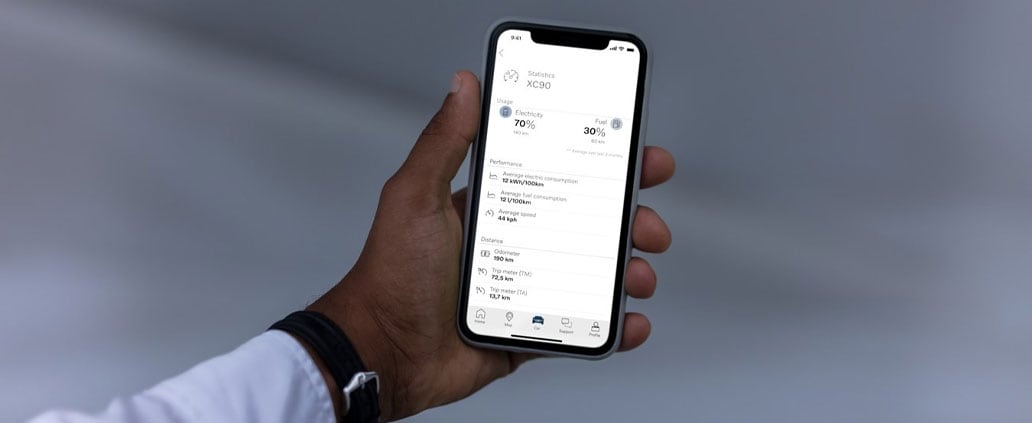 Volvo's new Volvo On Call App features can now give drivers a better look into more useful data that could change their driving habits. Rather than just being able to control your vehicle remotely, the new features provide a better understanding of the fuel cost implications and the benefits of driving in a fully electric mode on Volvo's plug-in hybrid models built upon the Scalable Product Architecture (SPA) and Compact Modular Architecture (CMA) platform.
What's New in Volvo On Call App?
Since 2013, Volvo plug-in hybrid drivers have enjoyed several features on the previous Volvo On Call app, including remote car lock and unlock, cabin temperature control, theft alert, car emergencies/SOS services, and much more. The most recent update seeks to help drivers understand their driving habits by showing metric data, including fuel consumption, battery consumption, distance covered, and carbon dioxide emission footprint for every trip.
Drivers of Volvo plug-in hybrids will now have first-hand information on fuel cost savings at their hands. Volvo believes that these efforts are geared towards a full migration into fully electric cars of the future. It will help customers in their transition as they get encouraged to use electric mode for all time.
Other Features of the Volvo On Call App
Other features include the enhanced driving journal that records your driving activity up to 40 days. It can measure the external (outside) temperature, remote preheating in preparation for a long journey, the car in motion feature used to detect when the car is moving, and sending a destination to the car via the app's map function. There are many other uses for the Volvo On Call App. The bottom line is, it increases engagement and interaction with your car.
Driving Into the Electric Future
All plug-in hybrid Volvos based on the SPA and CMA platform will enjoy the new features of the Volvo On Call App within the 47 countries mapped as Volvo's markets. In a race to beat time, Volvo's mission is to develop fully electric vehicles before 2025. Volvo's first-ever fully electric car, the XC40 Recharge P8, will begin production later this year. However, shipment will start next year. This move aims to generate half of the revenue from the sale of fully electric vehicles in the next five years. The other half will come from hybrid cars.
Volvo In Call app functionality has improved as developers are trying to integrate it into the Chinese WeChat platform. To learn more about Volvo On Call App and the latest Volvo developments, please contact our friendly representatives at Volvo Cars of Phoenix for more details.