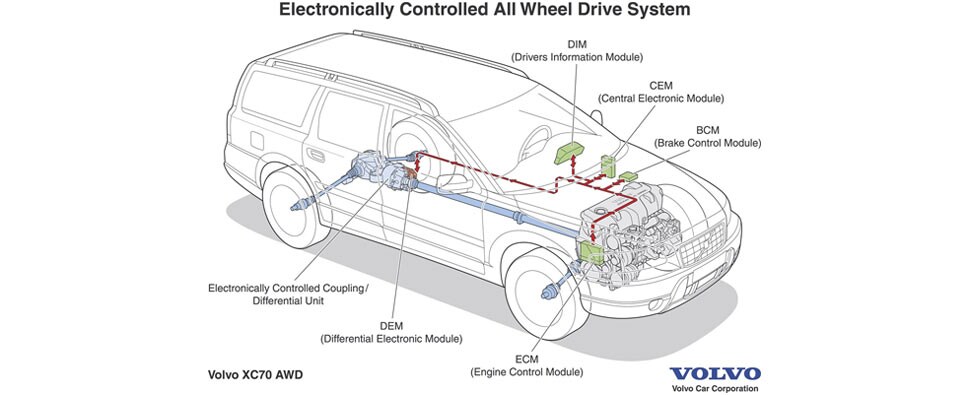 Volvo offers several types of all-wheel-drive systems for most of its models, including sedans. Even the latest plug-in hybrid trims are available with AWD systems that get excellent traction on slippery roads.
Volvo Vehicles Have All-Weather Dynamic Capabilities
Volvo has developed the exclusive Instant Traction technology for an all-wheel-drive system that's widely available in select models. This patented function drastically increases traction on slippery roads and rough trails. Controlled by an electronic module, the AWD with Instant Traction responds to several critical parameters, including the spin in the wheels and the tachometer. If necessary, this responsive drivetrain will ultimately reduce any torque flow to wheels that slip.
A full recovery of torque usually occurs when all tires roll on a dry surface with sufficient traction. Some Volvo crossover SUVs also have the Hill Descent Control, which is controlled by an electronic button on the dashboard. When this function is engaged, all four wheels will revolve at optimal rates on a downward path. The HDC is also optimized to improve towing on a steep downward slope. Additionally, some Volvo SUVs get an extra boost from the Hill Start Assist, which controls all wheels on an upward grade.
Models that are equipped with a plug-in hybrid powertrain roll on the eAWD, which delivers an excellent combination of efficiency and all-weather handling. Primarily drawing power from electric motors and batteries, this innovative drivetrain is designed to work at speeds of up to 31 MPH. Some Volvo cars also have the Drive Mode, which sharpens the powertrain, gearbox, and drivetrain based on a wide range of external factors. For instance, the Off-Road Mode tunes the AWD for unpaved terrains. The Dynamic Mode can help the driver control the steering and braking on a wet road.
Additionally, the Individual Mode can be personalized to deliver maximum traction on a rainy day. The AWD with Instant Traction and eAWD are usually linked to an automatic transmission that comes from the Geartronic series. Most Volvo models have this signature gearbox with up to eight ratios. Also, having a proprietary design, the Four-C Active Chassis supplements the drivetrain in select trims.
Monitoring the surroundings up to 500 times per second, this robust suspension system maximizes contact between the tires and road. The Four-C Active Chassis also prevents excessive compression in the wheels when the cabin is loaded to capacity.
Call or visit our Volvo auto dealership and check out the latest sedans, SUVs, and station wagons that roll on an AWD system.