2018 Volvo
XC90
Fuel Economy
✔ 22 / 29 (City/Hwy MPG*)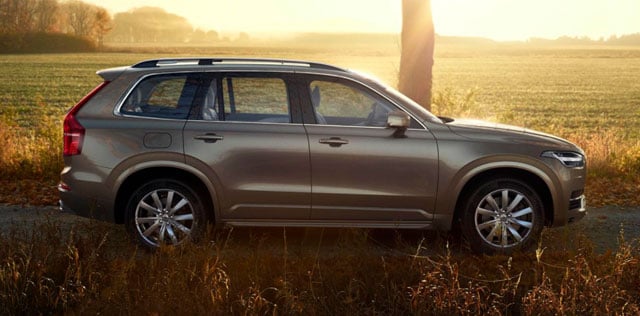 2018 Audi
Q7
Fuel Economy
✖ 19 / 25 (City/Hwy MPG*)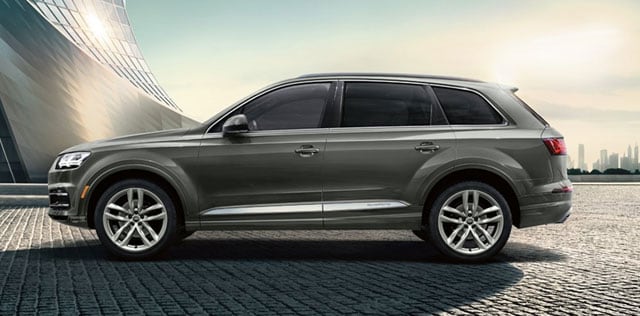 When it comes to driving a luxury car, few vehicles are as sleek and stylish as the 2018 Volvo XC90 and the Audi Q7. Both cars stand out in the industry for their handsome exteriors and upscale materials. Although both luxury SUVs may be popular, there are a few factors that make them unique and different from one another.
Specs at a Glance
Comfort
Comfort is one of the most important features of luxury cars when you're spending more to enjoy a smooth and relaxing ride. The 2018 Volvo XC90 offers elegant Swedish styling in the cabin with a more spacious second and third row compared to some of its rivals. The vehicle now comes standard with seven seats and offers leather-clad items. Dark flame birch wood inlays beautifully accent the leather seats and create a contemporary design in the cabin. The heated front seats and steering wheel with the interior head level illumination create a cozy interior at night or on gloomy winter days. Power lumbar support is also a unique feature that provides long-distance comfort.
The three-row Audi Q7 has a tranquil interior setting that is quiet but has an underlying firmness that may not be suitable for long drives. Although the vehicle is long, the third row is cramped and can feel claustrophobic for adult passengers. The cargo storage that is provided is also modest and won't offer a lot of space for your kids' sporting equipment or groceries that are transported.
Technology and Gadgets
Many different standard safety features are available in the new Volvo XC90, which allows it to have more value compared to the Audi Q7. The vehicle offers advanced technology that includes a 360-degree camera that eliminates blind spots and also provides a bird's eye view of the car. Sensus Navigation is an additional perk that offers intuitive guidance with cloud-based services and is capable of responding to voice commands. Concert-quality sound is available with the Bowers & Wilkins audio system, which includes 19 high-fidelity loudspeakers. The tailgate can also be opened with a swipe of your foot underneath without having to remove the key from your pocket.
The Audi brand features technology and gadgets that can be difficult and even distracting to use. Including lots of technology means that all of the controls have a steep learning curve that can take time to get used to for the average driver without offering as much convenience.
Exterior Features
One of the most impressive features of the body of the new XC90 is the self-cleaning headlights to remove dirt and grime that can limit visibility on the road. Heated windshield wiper nozzles prevent the wiper fluid from freezing, and power-retractable side mirrors protect the car from damage. The vehicle also has an added edge compared to the Audi Q7 for its panoramic sunroof, which allows the cabin to feel spacious and will provide passengers with a better view of the outdoors.
The Audi Q7 looks like a wagon compared to its predecessor and is not a sharp as the XC90's body. It's built with lower headlights, taller grass, a six-sided grille, and a squatter. Fortunately, the body is lighter than previous designs due to more aluminum that has been used to construct the car.
When you're ready to drive a new vehicle, contact our dealership to learn more about how the 2018 Volvo XC90 compares to the Audi Q7. Our team will be happy to answer your questions and explain the different financing options that are available.
Question? We Can Help