Learn More About the New XC70 From Volvo of Phoenix
2013 Volvo XC70 research and review from Volvo of Phoenix, The trusted resource. The Volvo XC70 reviews are written by experienced vehicle authors. It is just one of many resources we provide as the leading Volvo franchise in Phoenix. This Volvo review article contains everything you need to know about the XC70 and it's specifications, mpg and more. Get started by reading the full review or watching the video.
360 Degree Volvo XC70 Video
Salient Volvo XC70 Specifications
Comparing the 2013 Volvo XC70 side-by-side with against vehicles like the 2013 Audi Q5, Ford Flex, Subaru Outback, Mercedes Benz GLK and the Audi Q5, and you will spot that the 2013 XC70 trumps the competition in loads areas. See our bullets to see why!
2013 Volvo XC70 Cargo Space: 33.3 cubic feet
2013 Volvo XC70 Body Style(s): Wagon
2013 Volvo XC70 Seats: 5 passengers
2013 Volvo XC70 0-60 MPH in 7.1 seconds
2013 Volvo XC70 Colors: Flamenco Red, Ice White, Black Stone, etc...
2013 Volvo XC70 MPG: 19 city / 25 highway
2013 Volvo XC70 MSRP: $33,600
Learn About the 2013 Volvo XC70's New Features
Powertrain & Engine Info for the 2013 Volvo XC70
Volvo of Phoenix's Service Center Is Here for You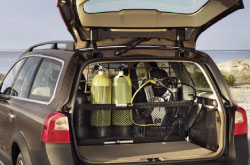 You won't get Volvo trained service techs, a no-charge warranty on service and legitimate Volvo parts at a chain auto facility in Phoenix, so visit Volvo of Phoenix instead. Volvo of Phoenix's auto service professionals will help keep your Volvo XC70 in good form. For simple oil changes and other Volvo services like front and rear brake pad swaps and windshield wiper replacement, come to us. We even handle more complicated tasks with ease, including jobs like muffler repair. Volvo of Phoenix is your choice in Phoenix for quick, professional Volvo service and regularly scheduled maintenance. To view wallet-friendly service coupons, click the link underneath this sentence right this instant!
You can contact our service center 24-7 using our online form