Take a Look Phoenix Volvo Shoppers - the XC60 has Arrived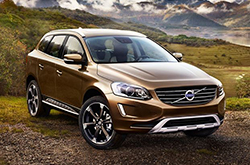 Volvo has done it again with the 2016 XC60. Stronger, safer and smarter than ever, the 2016 Volvo XC60 in Phoenix is a premium choice for luxury crossover SUV buyers. In the XC60, Volvo has produced an aesthetically pleasing vehicle that never fails to deliver when it comes to efficiency, capability and comfort. Test drive a XC60 today and discover why 2016 Volvo XC60 reviews praise the luxury crossover as a premier choice in its class.
With the agility of a road car and the utility of an SUV, the XC60 features a variety of appealing powertrain options. The T5 option with an eight-speed automatic transmission comes standard with a Drive-E engine capable of 245 horsepower and 350 torque. With the standard feature of corner traction control, drivers avoid the issue of understeering as the torque vectoring system applies just the right amount of acceleration and brake force. Additionally the all-wheel-drive options provide extra handling for whatever the next adventure may be.
Perhaps the most notable aspect of the XC60 is its incredible safety suite. With many 2016 Volvo XC60 reviews commending the vehicle on its excellent crash test scores and its extensive list of safety options, it is hard to ignore the XC60 as an excellent choice in the luxury crossover class. Classified under the blanket name of IntelliSafe, buyers can opt to receive additional optional pedestrian and cyclist detection technology, a cross traffic alert system, a road sign information program and a blind spot information system in addition to the standard collision preventing city safety software and dynamic stability control. For entertainment and convenience, each XC60 comes standard with a rain sensor, the intelligent Volvo Sensus information and entertainment system, a Bluetooth hands-free system and a perceptive trip computer.
The Volvo XC60 is the ideal crossover SUV for a busy Phoenix lifestyle. Whether loading down the spacious trunk area for a weekend adventure, shuffling precious cargo from school to practice or commuting to work on a Monday morning, you will never be disappointed with the 2016 Volvo XC60 in Phoenix. Volvo has proven that luxury and practicality don't have to be isolated when it comes to the stylish, versatile 2016 XC60.