The Volvo XC60 from Volvo of Phoenix is the symbol of ardent automotive craftsmanship built to fit the needs of Arizona Volvo aficionados. Volvo of Phoenix is proud to present the 4-door Volvo XC60 SUV. As your Phoenix Volvo dealer, we hope you find our Volvo XC60 reviews and research materials important in finding the accessories, specifications and information you've been hunting for. View Volvo of Phoenix's new lineup of Volvo XC60 SUVs.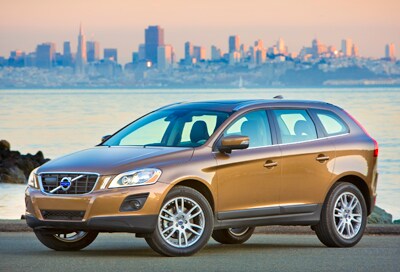 Volvo of Phoenix presents the Volvo XC60 SUV
Shoppers find that when they compare the Volvo XC60 to other makes like the Audi Q5, Mercedes Benz GLK and Mazda CX 7, the Volvo XC60 emerges as the most fun to drive. Take a look at our Quick List spec table below to see why!
The 2012 Volvo XC60 has an starting MSRP of $41,550
The Volvo XC60 gets 18 city / 24 highway MPG
The Volvo XC60 goes from 0-60 MPH in 5.8 seconds
The Volvo XC60 features 41.2 inches of legroom up front and 36.4 inches in back
The Volvo XC60 features 38 inches of headroom in front and 38.1 inches in back
The Volvo XC60 is 182.2 inches long, 74.4 inches wide and is 67.4 inches tall
The Volvo XC60 weighs 4,174 pounds and has a turning radius of 19.2 feet
We know you'll admire the Volvo XC60 - visit Volvo of Phoenix in Phoenix today!
Today, families are smaller, fuel prices are higher and budgets are tighter. These societal transformations have led automakers like Volvo to reassess the elemental philosophy behind their vehicle designs. To meet the needs of 21st century consumers, Volvo created two vessels aptly suited for modern shoppers: the 2012 Volvo XC60 and XC70. Featuring a new sub-trim structure and more amenities than ever, the new XC class offers Phoenix families affordably priced luxury in sleek, high-utility packages. In terms of overall value, these SUVs trump the Audi Q5, Mercedes Benz GLK and Mazda CX 7. Well configured inside and out, the 2012 Volvo XC60 and XC70 feature excellent safety technology, an advanced AWD system, impressive fuel economy and class-leading style. Volvo of Phoenix's 2012 XC class proves that you can have your cake and eat it too. Visit our Phoenix Volvo dealership to check out an exciting duo of family-friendly SUVs.
You can find the new 2012 XC60 and XC70 at Volvo of Phoenix in several well-appointed trim levels. The XC60 comes in 3.2, T6 or T6 R-Design trims. Fans of sport-infused fun can also select the XC70, which comes in 3.2 and T6 models. This year, the XC60 and XC70 also feature all-new Premier, Premier Plus and Platinum sub-trims. Visit our Phoenix Volvo dealership to see each of these precision crafted crossover SUVs in radiant colors like Silver Metallic, Vibrant Copper Metallic and Savile Gray Metallic.
The new 2012 Volvo XC60 was built to fulfill the needs of contemporary consumers. Its efficient compact size and SUV utility make it a terrific option for Phoenix families and single urbanites who require a spacious vehicle. With an incredible combination of bold exterior styling, a spacious, comfortable interior, cutting-edge safety features and a vivacious performance, the 2012 Volvo XC 60 is one of the most well-rounded and luxurious crossover SUVs in its class. The XC60 3.2 delivers a confident performance with a 3.2-liter inline-6 good for 240 horsepower and 236 pound-feet of torque. The all-wheel drive T6 and T6 R-Design come equipped with a 3.0-liter turbocharged inline-6 that produces 300 horsepower and 325 pound-feet of torque. On the interior, Phoenix Volvo shoppers can find amenities such as heated mirrors, Bluetooth phone and audio, a power driver seat with lumbar support and memory functions, cruise control, a split-folding 40/20/40 backseat, HD and satellite radio, an iPod/USB interface, a leather-wrapped steering wheel and much more. New on the T6 AWD is an optional Dynamic package which includes an upgraded steering and suspension system. Learn more about this and other options like the Climate, Technology and Premier packages today at Volvo of Phoenix.
If you're a Phoenix resident on the hunt for an SUV that'll turn heads, you can also check out the new XC70. With standout styling and advanced safety features, the new 2012 Volvo XC70 is a very appealing affordable crossover SUV. You'll have peace of mind wherever you go thanks to the XC70's Driver Fatigue, Lane Departure and Collision Warning systems, all of which are included in the optional Technology package. Additional safety features available on the 2012 XC70 include Volvo's Personal Car Communicator, Blind-Spot Detector and Pedestrian Detection systems. If this weren't enough, the new 2012 Volvo XC70 also comes standard with a City Safety system that can apply the brakes to avoid collisions. In addition to this, Phoenix SUV shoppers will be impressed by what's under the hood. The Volvo XC70 3.2 comes outfitted with a 3.2-liter inline-6 that delivers 240 horsepower and 236 pound-feet of torque. Stepping up to the Volvo XC 70 T6 AWD will get Volvo of Phoenix shoppers an extra shot of adrenaline with a 3.0-liter inline-6 that produces 300 horsepower and 325 pound-feet of torque. On the inside, select trims feature front and rear parking sensors, leather upholstery, walnut wood trim, keyless ignition, a premium navigation system and tinted rear windows, along with many of the features and package options that come with the XC60.
Visit Volvo of Phoenix for a complete list of each trim's unique standard and available features, and learn more about the Volvo XC's long list of package and stand-alone options.
Driving a Volvo XC60 from Volvo of Phoenix makes Arizona driving easy, safe and enjoyable - all at the same time! Here are the reasons why:
Volvo of Phoenix has a extensive collection of Volvo XC60 SUVs with standard Volvo safety features like anti-lock brakes, traction control, driver airbags, passenger airbags, side airbags and more, making the XC60 an NHTSA and IIHS favorite. In addition to these safety features, the Volvo XC60 can easily seat up to 5 passengers. Trunk space with Volvo is never a worry; the XC60 can hold up to 30.8 cubic feet of your stuff, ensuring that your next trip is hassle-free. To top it all off, the Volvo XC60 includes an outstanding list of comfort and convenience highlights like powered windows, mirrors, doors and locks, climate control, AC and optional hands-free phone and navigation systems. Take a test drive at Volvo of Phoenix today and experience the Volvo XC60 for yourself.
The Volvo manufacturer's warranty covers the XC60 for manufacturing defects and has a 4 Years / 50,000 miles Volvo warranty. Volvo has worked for years to minimize its environmental impact; as a result, the XC60's carbon footprint is minimal. Not surprisingly, with all of the XC60's advantages, this incredible Volvo SUV retains a high percentage of its value at 3 years and 36,000 miles, which makes the Volvo XC60 a great used buy! When seeking a safe, stylish and economical SUV, Phoenix Volvo aficionados should head to Volvo of Phoenix, located at 2205 W. Bell Road in Phoenix, AZ
Volvo XC60 service information for Phoenix
Volvo XC60 lessees and owners in Phoenix have found that Volvo of Phoenix at 2205 W. Bell Road in Phoenix is the very best choice for XC60 warranty work, regular maintenance, inspections and mechanical repairs. At Volvo of Phoenix, Certified Volvo Technicians trained in the very latest corrective and diagnostic techniques work for one thing - your complete satisfaction. Whether it's time for your Volvo to have an oil change, serpentine belt replacement, or simply undergo XC60 Scheduled Maintenance, Volvo of Phoenix is your first choice. Our Certified Volvo Techs also complete specialty jobs and repairs. Volvo of Phoenix is the smartest choice in Phoenix for speedy, amicable and professional Volvo Service of all kinds.
If you'd like to make an appointment to have your XC60 serviced, click the link or just give us a call. We'll see you soon!